About Angel Oak Mortgage Solutions
Our Mission:
Angel Oak Mortgage Solutions' mission is to create and foster financial equity through wealth building homeownership opportunities for underserved individuals, especially the self-employed, through increased access to workforce housing.
Tap Into The Power Of Angel Oak
Angel Oak Mortgage Solutions offers non-QM and specialized mortgage solutions for brokers and correspondents throughout the country. We pride ourselves on providing underserved consumers with unique flexibility through responsible loan products when applying for a mortgage. Our goal is to make the entire loan process easy and efficient, deliver phenomenal customer service, and close loans as quickly as possible.
Improvements and upgrades to our technology is ongoing to remain a step ahead. Our technology platform allows for paperless submission and the ability to track loan status with the click of a button. QuickQual is our own automated loan tool that has made the process easier and faster for loan officers to determine borrower eligibility. A response is received within a matter of minutes eliminating a process that once took 24 hours.
We are the leader in non-QM which is the fastest growing segment in the mortgage space. Increase your volume with the Power Of Angel Oak.
Angel Oak Mortgage Solutions is comprised of a team of qualified mortgage professionals who provide programs specifically for consumers whose circumstances may not meet standard Agency financing guidelines. Currently, Angel Oak is the largest non-bank originator of non-QM. Our team of non-agency lending specialists are ready to grow your business with innovative programs and services in 45 states.
We are a part of a well-established group of companies with a proven track record in the mortgage lending industry. For the seventh consecutive year, Angel Oak has been recognized as a 'Top Workplace' by the Atlanta Journal Constitution. Headquarters are based in Atlanta, Georgia with an operations center in Las Colinas, Texas located in the Dallas-Fort Worth Metroplex. This facility was opened in March 2018 and has allowed Angel Oak to expand services throughout Texas and the West Coast.
Through the POWER OF ANGEL OAK we are able to help underserved borrowers, such as the self-employed, achieve the dream of homeownership.
Angel Oak Updates
03-24-2023
Angel Oak Presents Debt-Service Coverage Ratio
Read More
Join Our Team
Why I Love Working At Angel Oak:
"I joined Angel Oak Mortgage Solutions excited to offer non-QM to deserving borrowers. This company is the expert on training and offering tools for success. They have put me in a position to truly help others and open doors not only for me, but to our clients as well."
– Andres Bernal, Account Executive

Our account executives offer a breadth of alternative lending products to retail partners who want to grow their business and better serve their customers. We're looking for experienced individuals who thrive when challenged; inspired to deliver a level of service unparalleled in the industry.
The account executive (AE) establishes, nurtures, and retains business relationships with mortgage brokers and correspondents to facilitate the acquisition of a wide variety of residential mortgage loan products and services through our extensive business-to-business network of correspondents and brokers.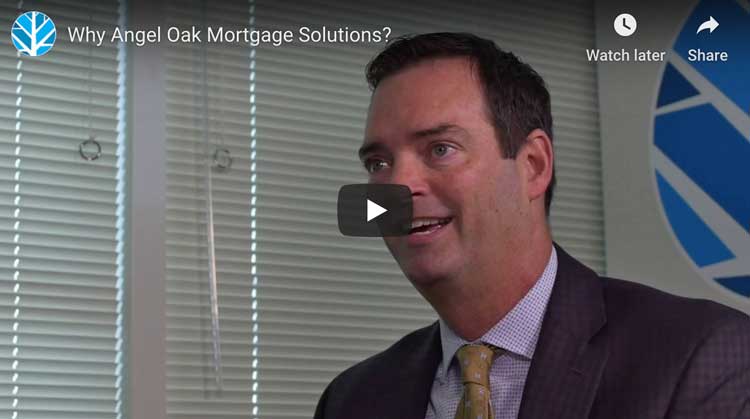 The Angel Oak Mortgage Solutions team is expanding! Join us and be a part of our exciting growth!
We are looking for account executives across the country and operations staff in Atlanta and Dallas.
Client Testimonials
I've vetted several non-QM lenders and we've found that Angel Oak's customer service is what sets them apart. We want to strive for a personal relationship with our clients – that relationship is what's key. And Angel Oak really delivered that with not only myself, being the president of this company, but also with all of my loan officers.

- Adam Zima, VP of Operations Champions Mortgage
There are still not a lot of non-QM products out there and we really feel like this company, Angel Oak Mortgage Solutions, has really pioneered the non-agency mortgage space. And they're doing it responsibly. That being said, our referral sources love it. The other aspect of it is the ease of doing business with Angel Oak. They really, really have streamlined their process.

- Jason Davis, Branch Manager American Financial Network
I really appreciate an underwriter that takes the time to discuss the file rather than just killing it. I started with [my future employee] back in 2001 where we prided ourselves on "Common Sense Underwriting." The goal was to figure out how to make the file work… Not look for every possible way to kill it.  So when I come across a company that has excellent underwriters such as yourself, I definitely take note that this is a company I want to continue working with.

- Libbey Blumberg, VP of Mortgage Lending Guaranteed Rate
The [Angel Oak] loan process is very streamlined. Their system is easy to use. Getting documentation uploaded to them is easy. If we have any questions or concerns, they're always available. We found that the overall process itself is no different than doing a standard Fannie, Freddie or FHA loan. I know there are some misconceptions in the marketplace that [Non-QM] of loans are difficult [to close] and we don't find that on our end.

- Brian Goodman, Sales Manager and Scenario Desk Specialist Wholesale Capital Corporation